RIDGEBACK
---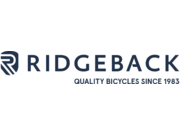 ***New Bike Delivery or Collect Options***

1) Click & Collect (our recommended option); the store staff will assemble the bike for you and ensure it is in full working order ready for you to collect. There is no additional charge for this service; it also saves you having to wait at home for a delivery, means you have no big box to dispose of and most importantly means your new bike is set-up correctly by a professional.

2) Direct Delivery; available to Mainland UK addresses only, delivery charges apply (see at checkout further details). Estimated delivery time 2-5 working days. We will dispatch orders received by our chosen courier will deliver direct to your door. You will need to be in to sign for the delivery and bikes will be delivered boxed, 85% assembled. Final assembly should be conducted by someone competent with the basic mechanics of a bicycle, if you require the help of your local bike shop please be aware the service will be chargeable.
" Ridgeback
A new era
Ever since we introduced the first mountain bike into the UK back in 1983, Ridgeback has been at the forefront of contemporary bicycle design with best selling bikes in every category.

1990 saw the launch of the Ridgeback Roxy, an early forerunner of today's Rapide series - the benchmark by which all other commuter bikes are measured.

Ridgeback's Urban series became another trend setter. In 1998 these slick tyred, street mountain bikes were fun to ride and provided a serious alternative to traditional commuting bikes. They continue today as the Switch series. In 2001 we created Genesis - an entirely new genre of ultra fast commuter sports bikes that really set the market on fire. GENESIS is now a brand in its own right.

More recently in 2006 we launched Dual Track. A robust all rounder with 29"" wheels that can cruise confidently over difficult terrain it also makes a versatile urban commuter.

2007 - Since the introduction of the first Ridgeback 25 years ago, the influence of American brands has tended to eclipse that of home grown machines. However in terms of today's bikes and riding style it's clear that 'UK' design is back in a big way. "
If you can't find the items you are looking for within our main site, you should be able to view the complete range from RIDGEBACK by visiting their own website: (although please be aware that not all products may be available within the UK)
VISIT
RIDGEBACK Website