MUC-OFF
---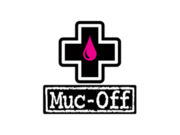 "What's important to you? Keeping your bike looking box fresh? Free from grease and grime? Well lubed and squeak-free? If your next question is, What do the pro's use? The answer is Muc-Off.
Or is it more pressing issues, such as the environment perhaps? Do all the products in the Muc-Off range utilize the latest ingredients and formulas that are friendly to the environment? Again the answer is Muc-Off.
Whether it's the World's racing teams or simply 'The World', what's important to you is important to us. That's why Muc-Off have earnt the prestigious reputation as the product of choice on the international race circuit for bicycle and motorcycle sport.

"
"X-Lite have lead the field for over a decade in what we like to call 'Bike Candy'. Typically like so many of our great ideas this term and many of our products have been copied. But because we use the highest grade materials and have unrivalled engineering technology, we are able to set ourselves apart in our efforts to continually develop our range of products for your riding advantage. Quality is the key word here, from production, the materials used and the way our products are manufactured, our finished items seem to give off a glow that shows the dedication and effort we expect to invest in every product that leaves our door.

"
If you can't find the items you are looking for within our main site, you should be able to view the complete range from MUC-OFF by visiting their own website: (although please be aware that not all products may be available within the UK)
VISIT
MUC-OFF Website